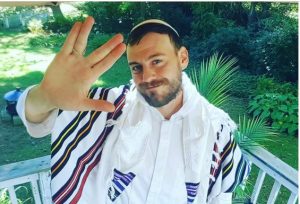 Rabbi Trek Reef walks in the world as a teacher of wilderness spirituality, a community organizer, and activist for social and environmental justice. He hiked the entirety of the Appalachian Trail Today, he is studying to become a Forest Therapy Guide and to cross-ordain as a Unitarian Universalist minister while serving the Commonwealth of Massachusetts as a Park Interpretive Ranger.
Rabbi Reef will present a talk and show slides of his 18-month journey on the Appalachian Trail during which he took approximately five million steps over 2189.1 miles between Georgia and Maine to find a deeper connection to the awe-inspiring natural world.
Rabbi Reef will be our guest minister Sunday morning prior to his noon talk. All are invited to attend either or both.
Date/Time
Date(s) - Feb 23, 2020
12:00 pm - 1:00 pm
Location
Hopedale Unitarian Parish